i am/was (not) here
"We look at the body and the body suddenly ends in the feet, in the hands. Ends there. There is nothing else ahead, it looks like a rocky cliff above the sea. It suddenly ends".
Helena Almeida
"(..) For those interested in issues of the creative process, the works of Fiadeiro and Almeida are compulsory passage (…) both use the body as the only tool we are sure to have and in both it seems evident the need to build fictional objects about nature and the process of elaborating what is presented to us as a final work."
Delfim Sardo
Photos by Patrícia Almeida
I Am/Was (not) Here is a trilogy that gathers three different projects that are, simultaneously, reenactments and bi-products of I Am Here, a work from 2003 where João Fiadeiro visits and explores the body of work from the Portuguese visual artist Helena Almeida. Originally the work was done in a stage, with a frontal audience, and positioned itself has a dialogue with  Helena Almeida's imaginary and processes of composition. I was Here (2014), I am (not) here (2017) and I am here_recoverd (2018) are projects that drop the frontal relation with the audience, proposing ways of accessing the work and João Fiadeiro's approach to composition from multiple perspectives (the lecture-performance, the exhibition-performance and the installation).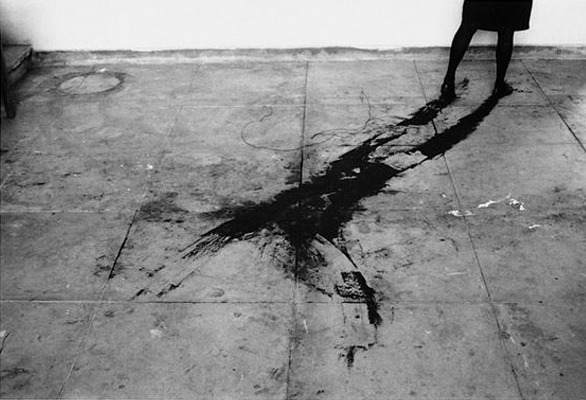 Helena Almeida, sem titulo, 1996 (excerto)