ça va exploser / it will explode (with carolina campos)
Concept and direction: João Fiadeiro and Carolina Campos
Performance: João Fiadeiro (Márcia Lança) and Carolina Campos
Choreography assistant: Daniel Pizamigllio
Dramaturgy: Leonardo Mouramateus
Light design and scenic dispositive: Leticia Skrycky
Sound design: Arnold Heberl
Premiere on February 6, 2020, at Festival Salmon, Barcelona, Spain.
//
– Me doing what I always do, "mechanizing" it, trying to clarify it, extract it from life …
   And you doing what you always do, giving it life, getting it dirty, preventing it from becoming a machine…
– Maybe that's the story of our relationship: me trying to live life and you trying to live with death.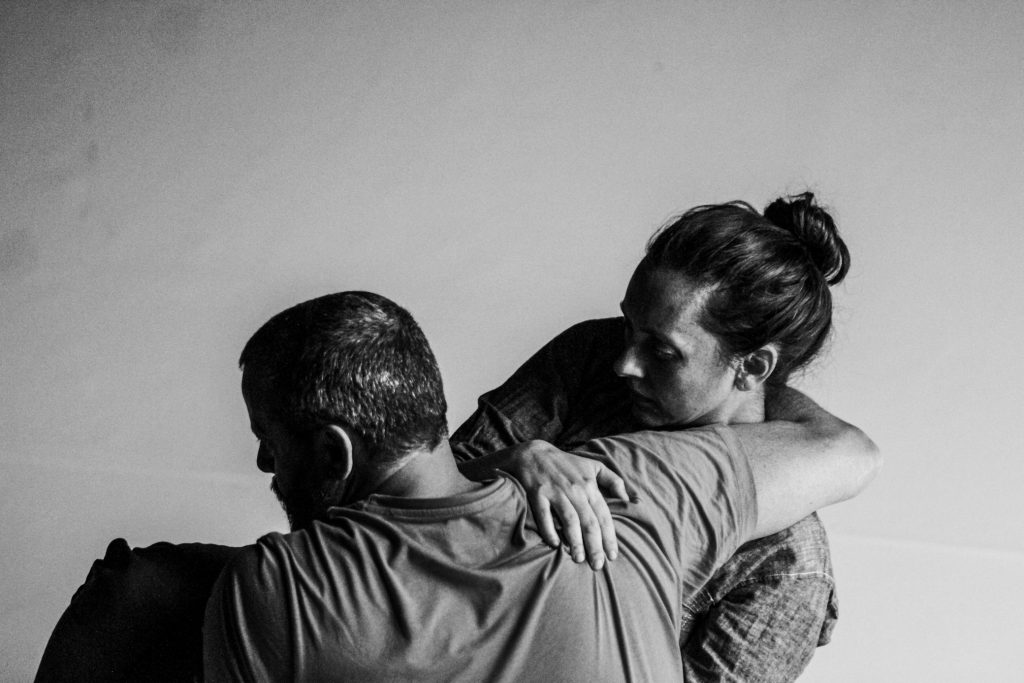 Photo by Anna Viotti
Ça Va Exploser (It's Going to Explode) took as its starting point the questions present in the photography book "Ma vie va changer" (My life is going to change) by Patrícia Almeida and David-Alexandre Guéniot. "Ma vie va changer" (Ghost Editions) places side by side photographs taken from newspapers collected between 2011 and 2013 – at the height of the 'Arab Spring', the entry of the Troika in Portugal, or the nuclear disaster in Japan – with photographs from Almeida-Guéniot's family album, where scenes from their daily life are portrayed in banal everyday activities.
Here are some of the questions João Fiadeiro and Carolina Campos asked in order to frame their approach to this work:
What is the impact of our personal lives on the macro scale of the world?
What thread connects  worldwide decisions and the intimate gestures of two persons?
Although we live side by side, do we inhabit the same world and crisis?
But perhaps the main impact that the book left in the work was the crease that separates its images. Crease that literally means "a mark left by a fold". The "crises"   between private experience and public experience portrayed in the book were transported to this work in the form of a crises that shared the same fold.
Ça Va Exploser is about the ways two people manage and dose  the "no's", the " maybe's" and the "yeses ". On the surface everything appears to be calm. Gestures follow the fictional protocol of a relationship and occupy a space of built intimacy. But, underneath, in the loopholes of this fiction, the relationship is in crises, is cracking up. Do we speak the same language? These are confusing times. Things collide, overlap, run over each other. Here and there they synchronize, they share a common plan. But it seems that they only do it in order to confirm the impossibility of continuity. The explosion is imminent.
//
Performance filmed in February 2020, at TBA / Teatro do Bairro Alto , Lisbon, Portugal