vexations (with joana gama)
Concept: João Fiadeiro
Performance: Joana Gama & João Fiadeiro
Premier on July 28, 2019 during the event DES|OCUPAÇÃO at Atelier Real, Lisbon
//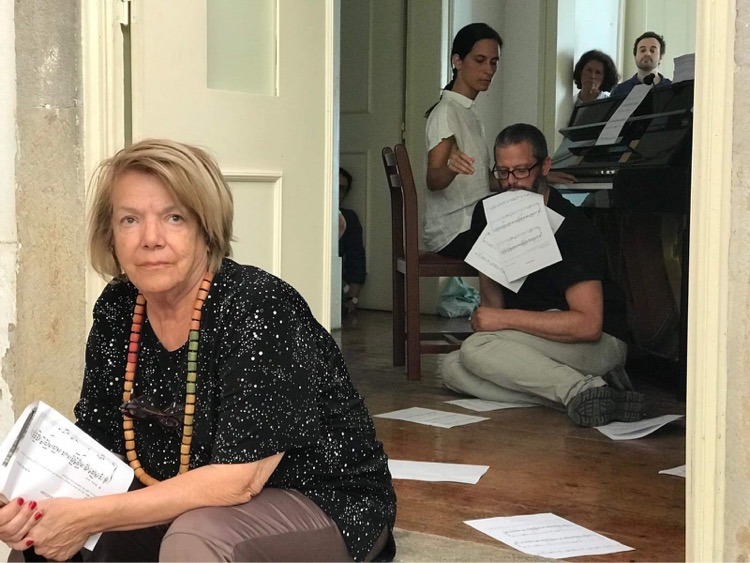 Photo by Ivan Haidar
When I first heard Erik Satie's Vexations it was purely by accident. About two years ago I was searching the Internet for the tags "Cage" and "Tudor" because of that beautiful story around the question "If you don't know, why do you ask?", attributed to David Tudor (in the book "Silence" by John Cage), and I ended up in a disconcerting video from 1963, where John Cale (before the creation of Velvet Underground) entered a television contest called "I've got a secret".
The contest used as reference a concert at the Pocket Theater in New York, organized by John Cage, where a group of 15 pianists (where Cale, Cage and Tudor, among others, were present), played for the first time "Vexations". It was in this program that I heard this piece and learned that the composer's only instruction was that the score, composed of a single page, should be played 840 times. I was absolutely fascinated by this idea and immediately thought that it would be an object that I would like to explore solo, in a durational piece. I just didn't know when or where.
Meanwhile, DES|OCUPAÇÃO happened. A moment of enormous emotional intensity where we decided to celebrate the end of Atelier RE.AL (after 29 years of interrupted activity) and I immediately thought it would be the perfect opportunity to move forward with this project. All parameters coincided: the idea of ​​repetition and difference that crosses my path and the path of RE.AL; the adequacy of the music to the ending context (apparently it was a composition Satie wrote at the end of a love relationship); the perfect "scenario" – of collapse, of abandonment, of emptiness – for the type of ambiance this music calls for…
Only the pianist was missing.
At the time I saw  "I've got a secret" video, I researched other versions and other ways of approaching Vexations and came across a short video of the Portuguese pianist Joana Gama playing the score only once. I was excited by the fact that a Portuguese pianist got involved in such a task and I thought: "who knows…". Later, I saw, via streaming, the 14-hour version that she played at the Gulbenkian Foundation and I went back and thought "who knows…". And when the hypothesis of programing this performance in the framework of DES|OCUPAÇÃO was confirmed, I gained courage and sent her a message.
Surprisingly, even though she promised herself that she wouldn't be playing Vexations anytime soon, she said yes. "Maybe not 14 hours, just half," she said… My state of joy was proportional to the panic that immediately took over my body. It's a beautiful idea on paper … but executing it is another story.
The performance was an extreme experience – physically and emotionally – but at the same time it was unique and unforgettable.